The Cheapest Fencing Options for Your Garden
15 Nov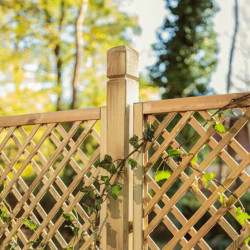 Gardening is a popular pastime throughout the UK, and having an attractive, well-defined space can enhance both the aesthetic appeal and functionality of your garden. One vital aspect of garden design is choosing the right fencing to enclose your little slice of paradise, while also being affordable and low maintenance. East Coast Fencing is dedicated to providing top-quality wooden fencing at highly competitive prices, ensuring that your garden remains pristine throughout the seasons. In this article, we will discuss the cheapest fencing options available for your garden without compromising on style and security.
Why Garden Fencing Matters
A garden fence not only outlines your property's boundaries but also can bring numerous benefits, such as:
Privacy: Offering a secluded area for you and your family to enjoy outdoor activities without disturbance from neighbours or passers-by.
Security: Preventing unwanted access from intruders, thereby keeping your family, pets, and belongings safer.
Aesthetic appeal: Enhancing the overall look of your garden through complementary designs, colours, and materials that match your desired theme.
The Most Cost-Effective Fencing Solutions
When selecting the most suitable fencing for your garden at the lowest cost, there are various factors to consider, such as durability, maintenance, installation cost, and of course, aesthetics. Here are some of the most economical fencing options available at East Coast Fencing:
1. Picket Fencing
Picket fencing, composed of vertical wooden slats with pointed or rounded tops, is a classic option that creates a defined boundary yet still retains an open feel, making them perfect for front gardens or separating different sections within your space. These fences are relatively inexpensive, easy to install, and require minimal maintenance.
2. Trellis Fencing
Trellis fencing, which consists of an open framework made from intersecting strips of wood, is an elegant and versatile solution, especially when combined with climbing plants to create a beautiful green wall. The affordability and lightweight nature of trellis fencing make for straightforward installation and hassle-free maintenance. It's a great option for those looking for a cost-effective, nature-friendly alternative.
3. Lap Panel Fencing
Lap panel fencing, made from horizontal overlapping slats, is a sturdy and economical choice for enclosing your garden. Due to its simple construction design, it's not only easy to install but also replace individual panels in the event of damage. Alongside its robust structure, its relatively low cost allows you to have a well-defined and private garden space without breaking the bank.
Fitting Your Fencing According to Your Budget
Choosing the right type of fence for your garden may seem overwhelming, but with some careful research and consideration, you can find the perfect solution tailored to your preferences and budget. East Coast Fencing offers a wide variety of cost-effective wooden fencing options that cater to your unique garden requirements, ensuring both practicality and visual appeal.
Don't forget that periodic maintenance, such as painting or staining, can prolong the life of your fence, preventing the need for a full replacement and saving you money in the long run.
In Summary
Transforming your garden into a secured and picturesque space doesn't need to be costly. By exploring various options such as picket fencing, trellis fencing, and lap panel fencing, you can achieve the desired look for your garden at a price that accommodates your budget.
---