6FT x 5FT 6 Inch Closeboard Fence Panel - Pressure Treated Green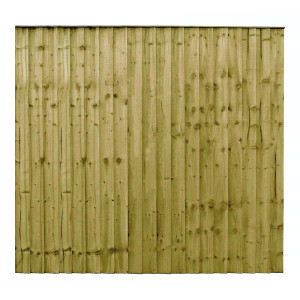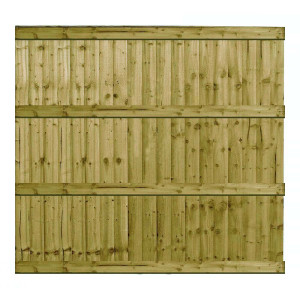 NEW


6FT x 5FT 6 Inch Closeboard Fence Panel - Pressure Treated Green
Stock:

In Stock

Brand: East Coast Fencing
Model:

GCB056

Weight:

37.00kg

EAN:

5061025361564

MPN:

CBR0056GREEN
6FT x 5FT 6 Inch Closeboard Fence Panel - Pressure Treated Green
Introducing the 6FT x 5FT 6 Inch Closeboard Fence Panel - Pressure Treated Green! This top-of-the-line, heavy-duty closeboard fence panel is the perfect solution for homeowners seeking a durable, long-lasting, and eco-friendly option to protect and enhance their property. Designed and manufactured in-house by East Coast Fencing, this beauty is expertly crafted to stand strong in the most challenging outdoor conditions, ensuring your investment will last for years to come.
Our Pressure Treated Green closeboard fence panels are specially designed to resist the elements, safeguarded by a unique green treatment that provides unparalleled protection against rot and insect damage. Say goodbye to constant fence maintenance, as this robust design guarantees a high-performance solution that requires minimal upkeep.
Key Features:
Pressure Treated Green: The cutting-edge green pressure treatment not only adds a visually stunning splash of color, but helps extend the life of your fence panels by protecting against rot and insect infestation.
Heavy Duty: Constructed to withstand the test of time, our heavy-duty design ensures maximum strength and stability. With reinforced vertical supports and thick wooden slats, this fence panel is both functional and visually pleasing.
Manufactured by East Coast Fencing: Rest assured knowing that this premium fence panel is designed and crafted in-house by industry-leading professionals at East Coast Fencing.
Create a private haven in your garden or establish clear and defined boundaries with the 6FT x 5FT 6 Inch Closeboard Fence Panel - Pressure Treated Green. Its imposing and sturdy design not only offers enhanced privacy and security, but adds a sense of elegance and style to any outdoor space. Whether you're looking to upgrade your existing fencing or add the final touch to a new landscaping project, our closeboard fence panels will exceed your expectations.
Don't wait any longer! Experience the perfect fusion of functionality, design, and unparalleled durability with our incredible 6FT x 5FT 6 Inch Closeboard Fence Panel - Pressure Treated Green. Secure your investment today and enjoy the lasting peace of mind only East Coast Fencing can provide.
Specifications
Product Information
Panel Type
Closeboard Fence Panel
No. Of Backrails
4x 75x32mm Rails
Width
1830MM
Height
1650MM
Depth
45MM
Colour
Green
Treatment Type
Pressure Treated
Product Reviews