A Guide to Wooden Decorative Fencing
26 Oct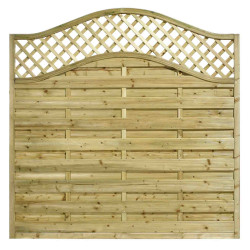 As homeowners, we're constantly searching for creative ways to add a touch of elegance to our gardens. One of the most popular ways to accomplish this is through decorative fencing. In recent years, wooden decorative fences have surged in popularity, offering a delightful combination of privacy, security, and aesthetic appeal. In this informative article, we'll delve into the world of wooden decorative fencing, discussing its background, different styles, and some common misconceptions. Let's enhance your garden!
The Significance of Wooden Decorative Fencing
Wooden decorative fences have been an essential part of British garden culture for centuries. With their natural and timeless appearance, these fences breathe life and sophistication into any outdoor space. They offer many benefits and, importantly, provide the perfect blend of form and function. With a plethora of styles and options to choose from, wooden fences can truly be a focal point that adds value to your property.
The Different Styles of Wooden Decorative Fences
Let's explore some of the popular styles of wooden decorative fencing that can elevate the appearance of your garden.
Omega Trellis Top
Characterised by its signature curved top, the Omega Trellis Top fence panel not only adds a touch of elegance to your garden but also allows light to filter through. The trellis feature promotes plant growth, allowing your favourite climbing plants to intertwine with the fencing, thus creating a stunning natural feature. The durable design and construction of the Omega Trellis Top fence panel ensures longevity and resilience against weather elements.
Horizontal Slatted
Horizontal slatted fencing adds a modern twist to the classic wooden fence. The sleek and contemporary design features clean lines and a unique sense of depth. The horizontal slats create an open, airy feel, allowing for natural light and breezes to pass through, while still providing outstanding privacy. Due to its simplistic and straightforward assembly process, this option is becoming increasingly popular among DIY enthusiasts.
Dispelling a Common Misconception
A significant misconception relating to wooden decorative fencing is regarding their size compatibility. Many imported fence panels in the UK are slightly undersized, causing confusion and frustration for homeowners. East Coast Fencing, a highly rated fencing supplier, addresses this concern by supplying true 6ft wide fencing panels, aligning with the UK standard. So, be sure to verify dimensions before purchasing decorative fencing to avoid any headaches in the future.
In Conclusion: Enhancing Your Garden with Wooden Decorative Fencing
Wooden decorative fencing is a versatile and timeless addition to any garden. With a wide range of styles such as the Omega Trellis Top and Horizontal Slatted options, these fences not only offer functionality but also contribute significantly to the aesthetic appeal of your outdoor space. As a homeowner, don't forget to look out for size discrepancies when purchasing fence panels and choose the perfect fit for your garden's dimensions. With the right wooden decorative fencing chosen, you'll undoubtedly enhance the charm and allure of your garden, making it a space you'll want to enjoy time and time again.
---