6FT x 3FT Ultra Heavy Duty Closeboard Panel
-30 %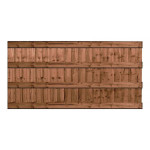 6FT x 3FT Ultra Heavy Duty Closeboard Panel
Selling Fast: 35 purchased in the last 24 hours
6FT x 3FT Ultra Heavy Duty Closeboard Panel
A premium addition to any garden, driveway, or outdoor space! Crafted with superior quality and durability, this fence panel is designed for those who desire a robust and enduring solution for their fencing needs. Manufactured exclusively in-house by East Coast Fencing, this masterpiece is guaranteed to stand the test of time and weather, making it a true investment for any property owner.
This 6FT x 3FT Ultra Heavy Duty Closeboard Fence Panel has been cleverly reimagined for added strength – an upgraded version of our standard fencing offering. The four 75x32mm rails serve as the backbone of the panel, providing it with unparalleled resilience, and ensuring it remains steadfast in the face of strong winds, persistent rains and other challenging conditions. Measuring 1830MM wide, 900MM high, and 45MM deep, this fence panel offers ample coverage and excellent privacy for any outdoor space.
Pressure-treated, finished in a delightful brown hue, and crafted to withstand the harshest of weather elements, this sturdy fence panel serves as a lush visual statement as well as a functional choice. The colour complements any garden design, whilst the treatment enhances the panel's longevity, allowing it to grace your space for years to come.
Investing in the 6FT x 3FT Ultra Heavy Duty Closeboard Fence Panel not only provides your outdoor area with an impressive, attractive barrier but also reassures you with a fencing solution that is built to last. Show off your impeccable taste and invest in the most reliable fencing panel option available today.
Don't settle for anything less than exceptional. Secure your peace of mind and add a sense of luxury to your property with our 6FT x 3FT Ultra Heavy Duty Closeboard Fence Panel. Order now and begin your journey towards creating an outdoor sanctuary that is as secure as it is stylish!
Specifications
Product Information
Panel Type
Ultra Heavy Duty Closeboard Panel
No. Of Backrails
4x 75x32mm Rails
Width
1830MM
Height
900MM
Depth
45MM
Colour
Brown
Treatment Type
Pressure Treated
Product Reviews