3.6M Half Round Rail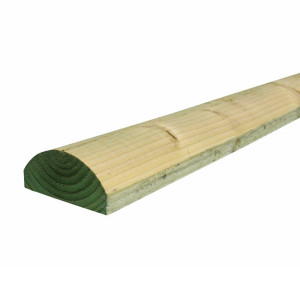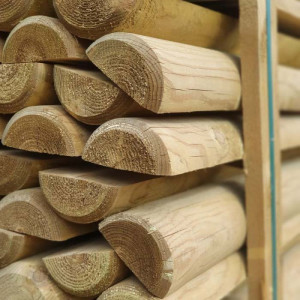 3.6M Half Round Rail
Introducing the 3.6M Half Rounded Rail - the ultimate solution for all your agricultural fencing needs! If you're looking for a reliable, durable, and eco-friendly fence rail that combines functionality with long-lasting performance, then look no further.
Our Pressure Treated 3.6M Half Rounded Rail offers incredible value, with a host of standout features designed to make your fencing projects quick, easy, and highly effective.
Key Features & Benefits:
Pressure Treated for Maximum Durability: Pressure treatment ensures that our rails are highly resistant to rot, insect infestation, and decay, greatly extending the life of your fences.
Designed for Agricultural Fencing: Our half-rounded rail is specifically engineered for agricultural purposes, providing the ideal fence structure to securely contain livestock, delineate property boundaries, and protect your precious investments.
Environmentally Friendly: Our pressure treatment process uses eco-friendly preservatives that both protect the longevity of your fence rails and safeguard the environment.
Ease of Installation: The half-rounded design allows for effortless installation, making it a breeze to set up your fences just the way you want.
Why Choose the 3.6M Half Rounded Rail?
By choosing the 3.6M Half Rounded Rail, you're investing in a product that's built to stand the test of time. The pressure treatment process produces a fence rail that will look great and perform optimally for many years to come, effortlessly handling the challenges of the great outdoors.
The design and functionality of our half-rounded rail make it the perfect option for agricultural fencing. Creating a robust and secure barrier to protect your assets while effortlessly blending in with the natural landscape. What more could you ask for?
Don't settle for anything less than the 3.6M Half Rounded Rail when it comes to your fencing projects. This is the reliable and cost-effective fencing solution you've been waiting for.
So why wait? Give your farm or agricultural property the strong, effective, and long-lasting fencing it deserves. Upgrade to the 3.6M Half Rounded Rail today!
Specifications
Product Information
Width
100MM
Length
3.6M
Type
Machine Round Post
Colour
Green
Treatment Type
Pressure Treated
Product Reviews