How Many Feather Edge Boards per Metre?
30 Oct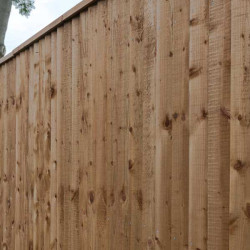 Feather edge boards are a popular choice for fencing, cladding, and other outdoor projects. This versatile building material offers an attractive, natural appearance and superior durability. In this article, we will explore the intricacies of feather edge boards, including understanding their dimensions, calculating the number of boards required per metre, and discussing some fascinating real-world examples.
Background and Significance
Feather edge boards, also known as closeboard or weatherboard fencing, are made from overlapping, tapered wooden boards. The boards' distinctive shape allows them to tightly interlock, providing privacy and security while resisting wind and water infiltration. This type of fencing is prevalent throughout the United Kingdom due to its robust and long-lasting nature.
Important Points and Definitions
Board Dimensions
Before diving deeper into the subject, it is crucial to understand the dimensions of feather edge boards. These boards are typically tapered, with one end broader and thicker and the other narrower and thinner. The broader edge will typically be about 125mm wide. The standard thickness of the boards is around 22mm down to 5mm, varying depending on your specific requirements and budget.
Overlap
When installing feather edge boards, it's essential to account for overlap. The overlapping nature of this fencing system provides strength and privacy, ensuring longevity and functionality. For a standard 125mm-wide feather edge board, a 25mm overlap is recommended. This recommended overlap ensures optimal performance and a visually appealing appearance for your project.
Calculations
Now that we understand the dimensions and overlap requirements, we can calculate the number of feather edge boards needed per metre. With a 125mm wide board and a 25mm overlap, each board will cover 100mm (125mm - 25mm) of the fence. To determine the number of boards needed per metre, divide the total width to be covered (in millimetres) by the coverage of a single board. Using this method, you will require ten standard 125mm wide feather edge boards per metre, allowing for a 25mm overlap.
Case Studies and Examples
Feather edge boards have appeared in a vast assortment of applications and projects over the years. Some notable examples include:
Garden fencing – Feather edge boards are a popular choice for garden fencing due to their durability and aesthetic appeal. The closeboard design provides privacy, security, and protection from the elements.
Cladding – Buildings can be clad using feather edge boards to create rustic, timber exteriors with excellent weather resistance.
Shed construction – Feather edge boards offer a practical and attractive solution for constructing garden sheds, workshops, and other outdoor structures.
By understanding the dimensions, overlap, and calculations for feather edge boards, property owners can create projects that are both visually appealing and durable.
Conclusion
Feather edge boards are a versatile and long-lasting building material that is suitable for a wide range of applications. When using 125mm wide boards with a 25mm overlap, expect to need ten boards per metre to create an attractive and functional structure. We hope that this article has provided valuable insights, and we invite you to explore this remarkable building material further, either for your next home improvement project or in a professional capacity.
---