1.2m x 125x22mm 2EX Feather Edge Board - Pressure Treated Brown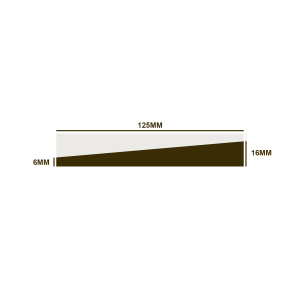 1.2m x 125x22mm 2EX Feather Edge Board - Pressure Treated Brown
Stock:

In Stock

Brand: East Coast Fencing
Model:

TIMFE125_12

Weight:

1.00kg

EAN:

5061025360987

MPN:

TIMFE125_12
1.2m x 125x22mm 2EX Feather Edge Board - Pressure Treated Brown
Introducing the 1.2m x 125x22mm 2EX Feather Edge Board – the ideal solution for creating stylish and durable feather edge cladding. This high-quality, pressure-treated timber board offers an attractive appearance and ensures long-lasting performance, perfect for your fencing or cladding needs.
The unique design of our 2EX Feather Edge Board features a robust taper from approximately 17mm to 5mm, providing unmatched stability and refined aesthetics compared to standard fencing alternatives. When installed with a 25mm overlap per board, this precision-crafted timber delivers exceptional coverage and a consistent, uniform appearance.
Our 1.2m x 125x22mm 2EX Feather Edge Board surpasses the competition in both quality and price, making it a top choice for architects, landscapers, and DIY enthusiasts alike. Manufactured to the highest standards and pressure treated for increased longevity, this innovative product is the ultimate choice for those looking for strength, beauty, and cost-effectiveness in feather edge cladding.
By choosing our 2EX Feather Edge Board, you'll experience unparalleled benefits such as:
Enhanced durability to withstand the test of time and elements
An attractive and seamless finish for a polished, professional look
Cost-effective, high-quality timber for added value and long-term satisfaction
Versatility in application, from fencing to cladding and beyond
Don't settle for anything less than the best. The 1.2m x 125x22mm 2EX Feather Edge Board is the top choice for those seeking excellence, elegance, and enduring quality.
Specifications
Product Information
Pack Size
Single Board
Width
125mm
Depth
22mm 2EX
Length
1.2m
Type
Feather Edge
Colour
Brown
Treatment Type
Pressure Treated
Product Reviews