Is Closeboard Fencing Cheaper Than Panels?
25 Oct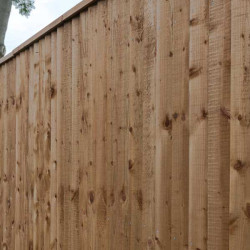 When it comes to creating a stylish and functional boundary for your garden, closeboard fencing and panel fencing are two of the most popular options in the UK. However, cost can play a significant role in the decision-making process when choosing between these two fencing styles. In this article, we shall discuss the various aspects of closeboard fencing and panel fencing, and whether closeboard fencing is cheaper than panels.
Quick Overview: Closeboard Fencing Vs Panel Fencing
Closeboard Fencing – Closeboard fencing consists of vertical feather-edged boards that overlap each other. These boards are attached to horizontal rails at the top, middle, and bottom of the fence, which in turn are fixed to sturdy fence posts. Closeboard fencing is known for its durability, strength, and privacy it offers.
Panel Fencing – Panel fencing, also known as waney-edge or lap panel fencing, is constructed with horizontal overlapping slats. These slats are supported by a framework that is nailed together to create pre-made fence panels. These panels can easily be slotted between fence posts and offer a more uniform appearance.
Cost Comparison: Initial Investment
When comparing the initial investment costs, closeboard fencing tends to be more expensive than panel fencing. This is primarily due to the additional materials, such as feather-edge boards, arris rails, gravel boards, and cant rails, required to build a closeboard fence.
However, it is essential to note that the cost of fencing materials can vary depending on the quality and type of wood used for both closeboard and panel fencing. Opting for pressure-treated timber or hardwood can increase the cost of both styles significantly.
Installation Costs
In terms of installation costs, panel fencing has an advantage as it tends to be quicker and easier to install, thanks to the pre-made panels. This often leads to lower labour costs as compared to closeboard fencing, which demands more time and effort to install each feather-edged board individually.
It is worth noting that although the initial investment and installation costs may be higher for closeboard fencing, the long-term value it offers might be worth considering.
Maintenance and Longevity
Closeboard fencing is known for its robust construction and durability, making it better equipped to withstand harsh weather conditions and last longer than panel fencing. This can lead to reduced long-term maintenance costs and, consequently, a higher return on investment.
On the other hand, panel fencing can require more frequent maintenance and replacement due to its less sturdy construction, which can translate into higher costs over its lifetime.
Final Thoughts
In summary, while closeboard fencing might be more expensive initially, it offers better durability, longevity, and potentially lower maintenance costs in the long run. Panel fencing, on the other hand, is generally less expensive to install but may require more frequent upkeep and replacement.
When making a decision between closeboard and panel fencing, it is crucial to consider not only the immediate costs but also the long-term value of your investment, as well as the aesthetic and functional aspects that best suit your garden.
Whether you choose closeboard or panel fencing, selecting a high-quality material and employing proper installation techniques will ensure that your fence provides an attractive and dependable boundary for years to come.
---