Can I Put a 6ft Fence in My Front Garden? (UK)
24 Oct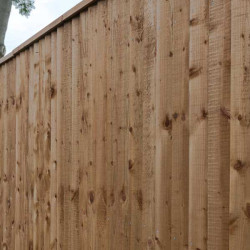 In the United Kingdom, the question of whether or not you can install a 6ft fence in your front garden has become a topic of interest for homeowners and property developers alike. The installation of a fence can have a significant impact on the appearance and privacy of a property. This article will explore the topic in detail, discussing relevant information, legal regulations, and factors to consider when deciding on installing a fence of this height.
Key Points and Regulations
It's important to review planning regulations before beginning any outdoor construction project in order to avoid fines or other legal issues. In the UK, fences, walls and gates located in the front garden or on a property's boundary may require planning permission depending on their height and other factors.
The following are essential points to be aware of:
Permitted Development Rights: These rights allow homeowners to carry out minor improvements without the need for planning permission, subject to certain conditions. In the context of fencing, a 6ft fence (approximately 1.83 metres) might be permitted in the rear garden of your property, but may not be permitted without permission in the front garden.
Householder Planning Permissions: For fences and walls in the front garden, the general rule is a maximum height of 1 metre (approximately 3ft 3in) from the ground. Installation of a fence taller than this requires planning permission from your local authority.
Conservation Areas and Listed Buildings: If your property is in a conservation area or is a listed building, additional restrictions may apply. Planning permission may be required to make any changes, even if they would otherwise fall under permitted development rights.
Neighbours and Boundaries: It's good practice to discuss any fencing plans with your neighbours, particularly if the fence will be located on a shared boundary. You may need to clarify the exact boundary location and ensure that any potential disputes are resolved before beginning work.
Relevant Case Studies
There is a variety of examples illustrating the effects of fencing height restrictions on property owners:
Improving Privacy: A homeowner in a Suffolk village faced opposition from neighbours when they applied for planning permission for a 6ft fence around their garden. After discussions with the local authority, the homeowner was allowed to build a fence of 4ft 7in, providing increased privacy while still remaining within the permitted height.
Boundary Disputes: In one instance, a homeowner installed a 6ft fence without seeking planning permission, leading to complaints from neighbours and a lengthy legal dispute. The homeowner was ultimately required to lower the fence to comply with local regulations.
Explaining Terminology
For those unfamiliar with the jargon surrounding property development and planning permissions, here are some terms that might need clarification:
Permitted Development Rights: These rights come from the Town and Country Planning (General Permitted Development) (England) Order 2015, which sets out the types of development that can be completed without the need for planning permission.
Conservation Area: Designated regions of special architectural or historic interest, where extra planning controls and considerations apply to protect their character.
Listed Building: A building with special architectural or historic interest included on a list maintained by Historic England. Changes to these buildings often require consent from the local authority.
---