Are Closeboard Fence Panels Any Good?
15 Nov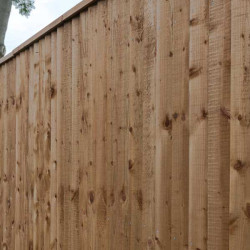 Closeboard fence panels, sometimes referred to as feather edge or overlap fence panels, are a popular choice for creating strong, attractive, and durable fencing solutions in gardens and other outdoor spaces across the UK. In this article, we will dive deep into the world of closeboard fencing, exploring its benefits, installation process, and the impressive functionality it offers. By the end of this article, you will be well-equipped to make an informed decision about whether closeboard fence panels are the right choice for you.
What is Closeboard Fencing?
Closeboard fencing is a type of wooden fencing made from vertical timber boards attached to horizontal back rails, with each board slightly overlapping its neighbour. This design creates a solid and robust fence that offers excellent privacy and security, making it suitable for a wide range of settings. The name "closeboard" comes from the closely spaced boards, which virtually eliminate any gaps between the panels.
Benefits of Closeboard Fence Panels
Durability: One of the primary selling points of closeboard fence panels is their durability. The overlapping design of the boards helps to strengthen the fence structures and resist damage from harsh weather or other external forces.
Privacy: Thanks to their close-knit design, closeboard fence panels offer a high degree of privacy, making them particularly suitable for enclosing gardens and securing boundaries.
Aesthetics: The natural wooden finish of closeboard fence panels gives them an attractive, traditional appeal that can suit a wide range of garden designs and styles. Additionally, they can be easily painted or stained to align with your desired aesthetic.
Ease of Installation: Closeboard fencing is generally straightforward to install, making it a popular choice for DIY enthusiasts and professional installers alike. Once the fence posts and horizontal rails are in place, the panel installation process often involves simply sliding the panels into position.
Adaptability: Closeboard fence panels can be cut to different heights or lengths, allowing for greater adaptability when installing them in gardens or other spaces with varying terrain or requirements.
Installation Tips
Here are some key points to consider when installing closeboard fence panels:
Always use treated timber for your fence panels, posts, and rails to protect against rot and insect infestation.
Install fence posts at the correct spacing intervals to provide adequate support and prevent sagging. A general rule of thumb is to space posts approximately 1.8 to 2.4 metres apart, but the exact spacing will depend on the size of your panels and any specific manufacturer recommendations.
Ensure the fence posts are set securely in the ground, using either post supports or a mix of concrete and ballast for added stability.
East Coast Fencing: Your One-Stop Shop for Quality Closeboard Fence Panels
At East Coast Fencing, we pride ourselves on providing an extensive range of high-quality, timber fence panels, including closeboard fence panels. Our panels are made from premium materials and treated to ensure your fence is not only strong and durable but also looks fantastic in your garden. With years of experience and expertise in the fencing industry, we can guide you in selecting the ideal closeboard fence panels to suit your needs and preferences.
In Conclusion
Closeboard fence panels are a versatile and efficient fencing solution, offering excellent durability, privacy, and aesthetic appeal. Their relative ease of installation makes them an ideal choice for both amateur and professional fencing projects.
---