Do You Need Permission to Replace a Fence with a Wall in the UK?
15 Nov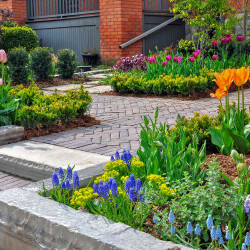 As the old saying goes, good fences make good neighbours, but what if you want to replace a fence with a wall for added privacy, security or aesthetic reasons? In this article, we will explore whether you need permission to make such a change to your property's boundaries in the UK, and delve into the details you should consider when undertaking this kind of project.
Planning Permission and Building Regulations
When it comes to replacing a fence with a wall, it is important to note that you may be required to obtain planning permission from your local council. This might be necessary if the proposed wall:
Is over 1 metre high and next to a highway used by vehicles, or the footpath of such a highway, or over 2 metres high elsewhere.
Will involve the formation or widening of an existing gateway.
Will alter the height or appearance of an existing boundary treatment.
Is part of a listed building or property within a conservation area.
Additionally, building regulations might apply, particularly if the wall is intended to serve as a retaining wall. Depending on the specifics of your project, you may also need to consider factors such as: potential impact on neighbours, complying with relevant health and safety regulations, and ensuring proper drainage.
Party Wall Act
If the fence you wish to replace with a wall is a shared boundary with a neighbouring property, you will need to respect the Party Wall Act of 1996. This legislation governs the process of making changes to shared walls or structures, as well as excavations close to a neighbouring property.
Under the Party Wall Act, you are required to provide written notice to your neighbours of your intention to replace the fence with a wall, giving them ample time to object or provide consent. It is advisable to discuss your plans with your neighbours beforehand, ensuring that your proposal will not adversely impact them or cause unnecessary disputes.
Choosing the Right Wall Materials
As specialists in wooden fencing, East Coast Fencing would like to highlight the benefits of opting for wooden fencing over a solid wall. Wooden fencing provides a softer yet secure appearance and blends in well with a garden's natural surroundings. Additionally, wooden fencing tends to be more affordable and quicker to install than walling.
However, should you choose to go ahead with replacing your fence with a wall, you will be presented with various material options, including brick, stone, or concrete. Consider factors such as cost, appearance, durability, and maintenance when making your decision.
In Summary
If you are considering replacing a fence with a wall in the UK, remember that you may need to obtain planning permission, adhere to building regulations, and follow the Party Wall Act if the fence is a shared boundary. Be sure to consult with your neighbours and local authorities, taking into account factors such as materials, cost, and potential impacts.
As experts in the fencing industry, we encourage you to explore the benefits of wooden fencing as a viable alternative to solid walls. However, should you decide to proceed with building a wall, we hope this article has provided you with a solid understanding of the process and necessary considerations.
---