6FT x 1FT Fully Framed Premium Square Trellis Panel - Pressure Treated Green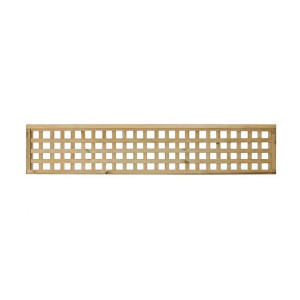 Out Of Stock
6FT x 1FT Fully Framed Premium Square Trellis Panel - Pressure Treated Green
Stock:

Out Of Stock

Brand: East Coast Fencing
Model:

DEC_PSQ03

Weight:

5.00kg

EAN:

5061025361700

MPN:

DEC_PSQ03
6FT x 1FT Fully Framed Premium Square Trellis Panel - Pressure Treated Green
Introducing the 6FT x 1FT Premium Square Trellis Panel – your ultimate solution to enhancing your garden's beauty, privacy, and functionality. Crafted with precision and durability in mind, this high-quality trellis panel is a must-have addition to your outdoor space.
Pressure Treated for Longevity
Our 6FT x 1FT Premium Square Trellis Panel is pressure treated green, ensuring it lasts for years to come. The treatment protects the wood from rot and insect damage, so you can enjoy your beautiful trellis without worrying about its performance or longevity.
Intricate and Stunning Design
Featuring 40mm squares, this trellis panel offers a gorgeous, visually appealing pattern that creates a stunning backdrop for your garden. The intricate design allows for your climbing plants to intertwine, resulting in a breathtaking display of greenery that is sure to impress.
High-Quality, Imported Timber
Sourced from the forests of Poland, our trellis panel is made from imported, high-quality timber. This ensures the strength and durability of each panel while maintaining a refined look with semi-planed timber.
True 6ft Wide to Fit Your Garden Perfectly
Measuring a true 6ft wide, our premium trellis panel ensures an exact fit for your garden space. Easily combine multiple panels for a seamless look or use one as a standalone piece for a stunning focal point.
Fully Framed for Added Strength
Each panel is fully framed, providing added strength and durability to your trellis. Experience increased stability and longevity, even under harsh weather conditions or when supporting heavier, more robust plants.
Transform your Garden Today
Elevate your garden's aesthetic and create a space that is as beautiful as it is functional with our 6FT x 1FT Premium Square Trellis Panel. Don't settle for substandard panels that won't last, invest in the quality and reliability you can count on.
Purchase your 6FT x 1FT Premium Square Trellis Panel now and experience the difference it can make in your garden.
Specifications
Product Information
Width
1830MM
Height
300MM
Type
Fully Framed Premium Square Trellis
Colour
Natural / Green
Treatment Type
Pressure Treated
Product Reviews