6FT x 6FT Fully Framed Premium Square Trellis Panel - Pressure Treated Green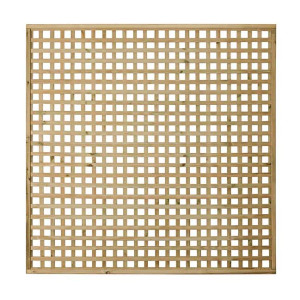 Out Of Stock
6FT x 6FT Fully Framed Premium Square Trellis Panel - Pressure Treated Green
Stock:

Out Of Stock

Brand: East Coast Fencing
Model:

DEC_PSQ18

Weight:

20.00kg

EAN:

5061025361656

MPN:

DEC_PSQ18
6FT x 6FT Fully Framed Premium Square Trellis Panel - Pressure Treated Green
Introducing the 6FT x 6FT Premium Square Trellis Panel - the perfect addition to your garden space! Transform your landscape into a stunning work of art with this versatile and stylish trellis panel. Its pressure treated green finish and high-quality craftsmanship make it a must-have for elevating your outdoor oasis. Imported from Poland, this trellis panel exudes excellence and sophistication.
Say goodbye to flimsy garden structures, as this trellis panel is constructed with 40mm squares for a durable and robust design. The true 6ft width ensures a perfect fit for your outdoor retreat, while the fully framed design guarantees a polished and refined appearance. Crafted from semi-planed timber, the trellis panel offers a smooth finish that's both pleasing to the touch and visually stunning.
Some of the exceptional features of the 6FT x 6FT Premium Square Trellis Panel include:
Pressure Treated Green Finish - Offering a beautiful, natural aesthetic to complement your garden space, while adding a layer of protection against the elements.
High-Quality Construction - Imported from Poland to provide you with a top-of-the-line garden enhancement that's built to last.
Fully Framed Design - Ensuring the stability and strength of the trellis while adding a sophisticated, polished touch.
40mm Squares - Robust and durable for maximum support and longevity.
True 6ft Width - Perfectly sized to provide a stunning garden backdrop or partition for your outdoor setting.
Semi-Planed Timber - Smooth and visually appealing for an exquisite garden enhancement.
The 6FT x 6FT Premium Square Trellis Panel is suitable for a variety of outdoor applications, whether you're looking to support climbing plants, create a stylish garden partition or add a touch of enchantment to your landscape.
Don't miss out on the opportunity to transform your garden into a captivating haven, purchase your 6FT x 6FT Premium Square Trellis Panel today, and experience the beauty, quality, and reliability of this exquisite garden masterpiece.
Specifications
Product Information
Width
1830MM
Height
1800MM
Type
Fully Framed Premium Square Trellis
Colour
Natural / Green
Treatment Type
Pressure Treated
Product Reviews