Your Ultimate Guide to Garden Sheds: Styles, Sizes, and Costs
18 Oct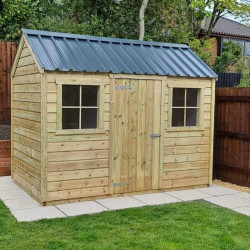 Garden sheds are a fantastic addition to any garden, providing valuable storage and workspace solutions for keen gardeners and DIY enthusiasts alike. East Coast Fencing is here to guide you through the different styles, average sizes, and costs associated with this versatile garden feature.
A Variety of Shed Styles for All Tastes
When it comes to choosing a garden shed, there's no one-size-fits-all solution. There are several styles to suit your needs and aesthetic preferences:
Traditional Apex Shed: Featuring a classic, peaked roof design and sturdy construction, Apex sheds are perfect for those who appreciate traditional design with reliable functionality.
Pent Shed: With a simple sloping roof and minimalist design, Pent sheds are ideal for those with limited garden space or contemporary design preferences.
Potting Shed: Designed specifically for gardeners seeking a dedicated space to propagate plants, potting sheds often feature large windows for maximum sunlight exposure.
Corner Shed: As the name suggests, corner sheds are designed to fit neatly into the corner of your garden, optimising your available space while providing ample storage.
Workshop: Larger and more robust than the average garden shed, workshops provide the extra space and height needed for those looking to store large tools, undertake DIY projects or indulge in a hobby.
Average Shed Sizes for Every Garden
Garden sheds come in a wide range of sizes, catering to all requirements and available garden spaces. The most popular shed sizes include:
6 x 4 ft: Suitable for smaller gardens, this compact shed is ideal for storing essential gardening equipment and tools.
8 x 6 ft: A popular choice for an average-sized garden, providing ample room for lawnmowers, bicycles, and workbenches.
10 x 8 ft: For those requiring more substantial storage or workspace, a 10 x 8 ft shed offers additional room for larger equipment or leisure activities.
Bespoke Sizes: For those with specific space requirements, many shed suppliers offer custom-built sheds tailored to your exact measurements.
Don't forget to consider the height of your shed and whether you require external or internal access between your garden and your home.
Shed Costs: What to Expect
The cost of a garden shed can greatly vary, depending on factors such as size, materials, style, and additional features. Based on a basic wooden garden shed, here are some rough price estimates:
6 x 4 ft: £250 to £400
8 x 6 ft: £400 to £600
10 x 8 ft: £600 to £1000
It's also important to factor in the cost of delivery, the base or foundation, any extra features (like windows or double doors), and potential installation costs if opting for professional assembly.
Dispelling Common Misconceptions
Some may see garden sheds as merely a functional storage space, but modern innovations and varying styles make them truly versatile, often doubling as a garden office, hobby room, or even a "she-shed" or "man-cave." Don't be afraid to think beyond just storing your lawnmower and garden tools - a well-designed shed can genuinely enhance your garden's aesthetic and your daily life.
---