Discovering the Dimensions of Standard Fence Panels in the UK
20 Oct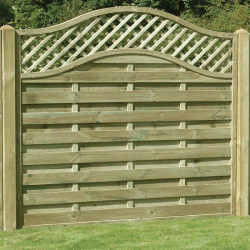 An integral part of gardening in the UK, fences play an impactful role not only in demarcating property boundaries but also in ensuring privacy and enhancing aesthetics. When it comes to choosing fence panels for your home or property, understanding the standard sizes is essential to creating a uniform and visually appealing design. Here, we delve into the dimensions of standard fence panels in the UK and clear up common misconceptions. By the end of this article, you will be confident in selecting the appropriate panels for your fencing needs.
Understanding Fence Panel Sizes
In the UK, fence panels are generally available in several standard dimensions, though custom-sized panels can also be acquired to suit specific requirements. The most widely used fence panel sizes are as follows:
6ft x 6ft (1.83m x 1.83m)
6ft x 5ft (1.83m x 1.52m)
6ft x 4ft (1.83m x 1.22m)
6ft x 3ft (1.83m x 0.91m)
It is important to note that these dimensions reference the width and height of each panel. A standard fence panel in the UK measures 6ft or 1.83 metres wide, which ensures that it is compatible with most prebuilt fence posts and accessories designed for the UK market, leading to easy installation and ensuring a consistent appearance.
Qualities of Different Fence Panel Styles
Beyond the dimensions discussed, various factors impact the overall look, stability, and privacy offered by different fence panel styles. Some popular styles include:
Closeboard Fencing: Known for their robust nature, closeboard fence panels consist of vertical feather edge boards that overlap. This style provides enhanced privacy and security while maintaining a traditional look.
Lap Fencing: Also known as overlap or larch lap panels, this design is characterised by horizontal slats that run the full width of the panel. This option is relatively budget-friendly, but may not be as durable as closeboard fencing.
Picket Fencing: A classic design, picket fence panels feature vertical pales with spaced intervals, offering a lower level of privacy but a more open and welcoming feel. These panels add a level of charm to your home.
Dealing with Sloping Ground
Properties and gardens with sloping ground can present a challenge when installing standard fence panels, as the difference in height might lead to uneven appearances or gaps underneath the panels. Stepped or contoured fence panels can rectify these issues by providing a bespoke fit that follows the terrain, ensuring a consistent aesthetic and secure installation.
Conclusion
Having a clear understanding of the dimensions of standard fence panels in the UK is crucial for any homeowner planning to invest in new fences for their property. With a wide range of styles and sizes available, there is a suitable option for every garden and home. By selecting the appropriate panel dimensions for your landscaping project, you will create a uniform, visually appealing, and practical space that enhances the overall beauty and value of your property. As experts in the world of fencing, we at East Coast Fencing encourage you to continue your research and assess your specific requirements, armed with the knowledge shared in this article.
---