6FT x 4FT Horizontal Single Slatted Fence Panel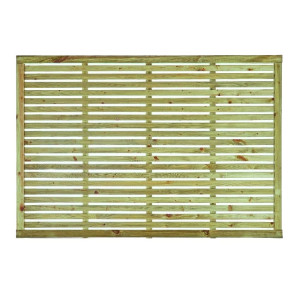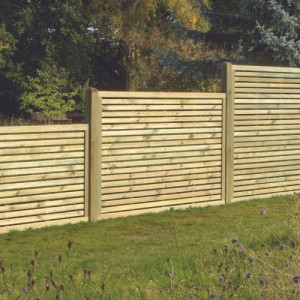 6FT x 4FT Horizontal Single Slatted Fence Panel
Stock:

In Stock

Brand: East Coast Fencing
Model:

DEC_SLA120

Weight:

30.00kg

EAN:

5061025360260

MPN:

DECSLA120
6FT x 4FT Horizontal Single Slatted Panel
Introducing our 6ft x 4ft horizontal slatted fence panel - a premium and stylish choice to redefine any outdoor space. This high-quality fence panel is a perfect addition to our main product category, the 6ft x 4ft horizontal single slatted fence panel. Defining elegance and robustness in design, our fence panels cater to those looking for unique solutions to uplift their gardens and property surrounds.
Crafted with precision, the 6ft x 4ft horizontal slatted fence panel ensures maximum privacy and durability. Its slatted design offers added security and a sophisticated appearance that enhances any setting it is introduced in. With the interwoven structure, you can be confident that this sturdy fence panel will stand up to the elements season after season.
An outstanding feature of our decorative fence panels is their 1.83m width, a step ahead of the conventional 1.8m width. This ingenious extension is specifically designed to eliminate the need for panel extension strips, allowing our range to slot seamlessly into existing concrete posts. This innovative touch not only simplifies the installation process but also saves you time and money.
Our dedication to providing unparalleled quality and sophistication is evident in our quest to empower homeowners with distinctive styles. So, why settle for a standard, single slatted fence panel when you can indulge in the enhanced allure of our 6ft x 4ft horizontal slatted fence panel?
Browse our range of decorative fencing to explore the full range of horizontal single slatted fence panels we offer. Elevate your outdoor aesthetics and embrace the exclusivity of these exceptional fence panel designs. Don't miss out on the opportunity to transform your property with the flair and elegance it duly deserves!
Discover the perfect fence panel today and reimagine your outdoor space with our sophisticated range of 6ft x 4ft horizontal slatted fence panels. Your garden oasis awaits!
Each slat in our single slatted panels measure 40mm x 10mm, with 15mm spacing between.

Specifications
Product Information
Finish
Semi-Planed
Panel Type
Horizontal Single Slatted
Width
6FT (1828MM)
Height
1200MM
Depth
45MM
Colour
Green
Treatment Type
Pressure Treated
Product Reviews