6FT x 3FT Dome Top Closeboard Fence Panel - Pressure Treated Green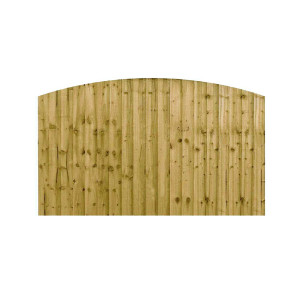 NEW
6FT x 3FT Dome Top Closeboard Fence Panel - Pressure Treated Green
Stock:

In Stock

Brand: East Coast Fencing
Model:

GCBD03

Weight:

55.00kg

EAN:

5061025361632

MPN:

GCBD03
6FT x 3FT Dome Top Closeboard Fence Panel - Pressure Treated Green
Introducing the 6ft x 3ft dome top closeboard fence panel, a stunning and robust addition to our family of high-quality closeboard fence panels. Built to withstand the test of time, this fence panel not only offers privacy and security but also adds a touch of elegance to your outdoor space.
Expertly crafted with heavy-duty materials, the 6ft x 3ft dome top closeboard fence panel features a unique dome top design, providing an added layer of sophistication and style to your garden. Pressure treated for extra durability and resistance against rot and insects, this fence panel is designed to endure the harshest of weather conditions, keeping your outdoor sanctuary protected and pristine year-round.
What sets our 6ft x 3ft dome top closeboard fence panel apart from competitors? Its unbeatable combination of strength, style, and longevity. While other fence panels may buckle under pressure, our closeboard panels are built with premium-quality timber, ensuring maximum strength and stability. As a testament to our dedication to quality, we offer a 10-year guarantee against rot and insect infestation for your peace of mind.
The aesthetic appeal of our dome top closeboard fence panel truly sets it apart from other options in the market, making it a perfect choice for creating an eye-catching boundary around your garden. Its distinctive design adds value to your home, enhancing the overall aesthetic of your property.
Don't settle for ordinary when you can choose extraordinary! Upgrade your garden's perimeter today with our 6ft x 3ft dome top closeboard fence panel. We invite you to explore the main product category page to discover the full range of our high-quality closeboard fence panels, tailored to suit every homeowner's needs and desires. Don't miss out on the opportunity to transform your outdoor space into a picturesque paradise with our top-of-the-line fence panels. Experience the perfect fusion of form and function that only we can offer. Browse our complete collection now!
Specifications
Product Information
Panel Type
Arch Top Closeboard Fence Panel
Width
1830MM
Depth
45MM
Colour
Green
Treatment Type
Pressure Treated
Height to Shoulder
900MM
Height to Dome
1050MM
Product Reviews