3.0M x 75x75MM Wooden Fence Post - Pressure Treated Green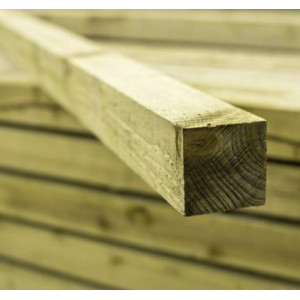 3.0M x 75x75MM Wooden Fence Post - Pressure Treated Green
Stock:

In Stock

Brand: East Coast Fencing
Model:

WFP3330GRN

Weight:

10.00kg

EAN:

5061025361779

MPN:

WFP3330GRN
3.0M x 75x75MM Wooden Fence Post - Pressure Treated Green
Introducing our 10FT 3"x3" Wooden Fence Post (3.0M x 75x75MM), the ideal solution for all your fencing needs. Crafted with the finest timber produced in Ireland, these Wooden Fence Posts are designed to be both durable and aesthetically pleasing, serving as a natural-looking alternative to common concrete fence posts.
Pressure Treated & Green in Colour
Our Wooden Fence Posts are pressure treated to withstand the test of time. The Green colour of each post offers a beautiful, rustic touch to your garden or outdoor space. Moreover, the advanced pressure treatment process also protects against rot and fungal decay, ensuring your fence post remains in top-notch condition over the years.
Unmatched Quality & Strength
When it comes to fencing, strength and durability are key. Our 3.0M x 75x75MM Wooden Fence Posts deliver on both, providing a robust and secure framework for your fencing needs. The quality of the timber used ensures that your fence stands tall and steady, with minimal maintenance required.
The Perfect Choice for Your Fencing Needs
Choosing our Wooden Fence Posts means investing in a product that offers exceptional quality, unrivalled durability, and natural beauty. Say goodbye to dull, industrial concrete fence posts and embrace the warm, organic feel of premium Irish timber.
Experience the Difference
Don't settle for less – elevate your garden or outdoor space by choosing our 10FT 3"x3" Wooden Fence Post (3.0M x 75x75MM) for your fencing project. Experience the advantages of a beautiful and practical wooden fence post, and let your garden shine with style and sophistication.
Specifications
Product Information
Post Type
75MM Wooden Post
Width
75MM
Depth
75MM
Length
10FT (3.0M)
Type
Softwood
Colour
Green
Treatment Type
Pressure Treated
Product Reviews