How to use rapid set postmix concrete
01 Jan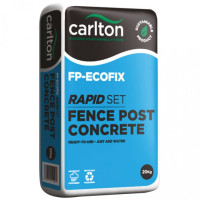 What is postmix?
Postmix concrete is a pre-mixed and kiln-dried blend of cement and ballast. At We we call it postmix, but it's sometimes referred to as postcrete or ready mix.
Purpose made for installing fence posts (including concrete fence posts, wooden fence posts and metal fence posts), postmix is a great product and a fast way to install a new fence posts.
How do i use postmix concrete?
Dig a hole for your fence posts (600mm deep)
Correctly position the fence post in the hole
Pour water into the hole until roughly half full
Evenly pour postmix into the hole
Allow 5-10 minutes to set