How High Should a Trellis Be Off the Ground?
24 Oct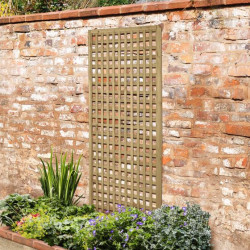 Trellis structures, widely popular among gardening enthusiasts in the United Kingdom, serve a multitude of purposes. They not only act as excellent supports for climbing plants and vines but also provide ornamental beauty to gardens, patios, and many other outdoor spaces. Choosing the right height for your trellis off the ground can significantly influence your gardening experience, plant growth, and overall garden aesthetics. In this article, we take a step-by-step approach to guide you on determining the ideal height for your trellis.
Understanding the Significance of Trellis Height
Before we delve into specifics, it is essential to comprehend the purpose of a trellis and its critical role in supporting various flora. A trellis is a robust, often lightweight lattice or framework structure that enables plants with tendrils or twining stems to climb, spread, and thrive. Some plants even rely on trellises to enhance their exposure to sunlight and produce a better crop yield.
Types of Plants and Trellis Height
The trellis height is an essential factor to consider, as different plant types have varying height requirements to achieve optimal growth. Here are some commonly grown plant types and their suggested trellis heights:
Climbing roses: 1.5 to 2 metres
Clematis: 2 to 2.5 metres
Honeysuckle: 2 to 2.5 metres
Wisteria: 2.5 to 3 metres
Ivy: 1.5 to 2 metres
Runner beans: 2 to 2.5 metres
Should you wish to grow multiple plant types, you may choose an adjustable trellis to accommodate varying plant heights.
Location and Height
The location where you decide to place your trellis will also have an impact on its height from the ground. Free-standing trellises or those placed near fences typically require 30 to 45 centimetres off the ground, which ensures optimal support while avoiding root damage and pests. Wall-mounted trellises usually should be situated at least 30 centimetres from the ground. This gap allows some airflow and prevents plants from getting damage from moisture trapped between the wall and the trellis.
Structuring Multiple Trellises
If you plan to interconnect multiple trellises, creating a tiered effect, or constructing picturesque archways and pergolas, keep in mind the ground clearance you maintain for the initial structure will have an impact on the remaining structure's height. Thus, it is crucial to plan and measure heights accurately to ensure symmetric and well-structured trellis arrangements.
Case Studies and Examples
Many successful gardens employ trellis structures, showcasing the importance of determining the right height. The famous Wollerton Old Hall Garden in Shropshire exhibits beautiful interconnecting trellises that create stunning walkways while supporting an array of flora, including roses, wisteria, and clematis.
Another example, The Priory Garden in Sussex, features a freestanding trellis structure with climbing roses lining a path, illustrating the impact of appropriate trellis height on plant growth and garden aesthetics.
In Conclusion
The decision of how high a trellis should be off the ground depends on various factors, including the type of plants, location, and planned trellis arrangement.
---