Exploring the Versatility of Softwood Railway Sleepers in the Garden
18 Oct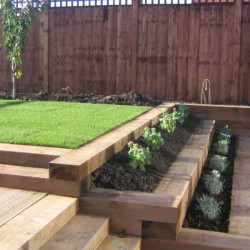 Softwood railway sleepers are an excellent addition to any garden, providing endless possibilities for landscaping and various outdoor projects. These wooden beams serve as an excellent alternative to traditional building materials, enabling you to transform your garden into a serene and visually stunning space. In this article, we will explore the various uses of softwood railway sleepers in the garden and debunk a few common misconceptions surrounding their use.
The Beauty and Functionality of Softwood Railway Sleepers
Traditionally, railway sleepers were used to support railway tracks and distribute the weight of trains evenly across the rails. While softwood railway sleepers remain a popular choice for maintaining and repairing railway infrastructure, their versatility extends well beyond the railroads.
In recent years, softwood railway sleepers have gained popularity as a sought-after landscaping material for gardens, which stems from their durability, cost-effectiveness, and attractiveness. Some major benefits of using softwood railway sleepers in your garden include:
Aesthetically appealing: Softwood sleepers offer a rustic and natural touch to your landscape.
Durable and sturdy: Softwood sleepers are known for their robustness, enabling them to withstand the test of time in various outdoor applications.
Environmentally friendly: As a natural material, wood is both renewable and biodegradable, making softwood sleepers an eco-friendly choice for garden enthusiasts.
Unlocking the Potential of Softwood Sleepers in Your Garden
There are a plethora of creative ways to incorporate softwood railway sleepers into your garden, enhancing its charm and functionality. Here are a few popular uses:
Raised beds: Softwood sleepers can be used to build appealing raised beds for planting flowers, vegetables, or herbs. Their sturdy nature makes them ideal for supporting the weight of soil and vegetation.
Garden edging: Using softwood sleepers to edge your garden can create striking visual boundaries between different areas while helping to control the spread of plants or grass. This can be especially useful if you're looking to create a clearly defined pathway.
Retaining walls: Softwood sleepers are strong enough to construct retaining walls, preventing soil erosion and making sloping areas more manageable.
Benches and seating areas: Transform your garden into a tranquil outdoor sanctuary by constructing comfortable benches and seating areas using sleepers.
Garden steps: For gardens with varied elevations, softwood sleepers can be repurposed into safe and attractive steps.
Outdoor furniture: By thinking outside the box, you can utilise softwood sleepers to create unique tables, chairs, or even a pergola.
Dispelling Common Misconceptions
There is a misconception that softwood sleepers will rot quickly in the garden, thus making them unsuitable for use. However, this is not the case. Softwood sleepers are usually treated with preservatives to increase their longevity, ensuring they can withstand moisture and harsh weather conditions.
In Summary
Softwood railway sleepers boast an array of practical applications within the garden, from creating raised beds to constructing retaining walls and furniture. With proper treatment and care, they can provide a long-lasting, durable, and aesthetically pleasing addition to any landscape.
We hope this article has inspired you to explore the endless possibilities of using softwood railway sleepers in your garden and to create a space that exudes beauty,
---