A Comprehensive Guide to Railway Sleepers
18 Oct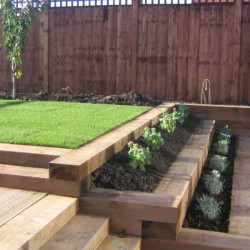 Softwood railway sleepers are versatile and sustainable landscaping materials that have grown increasingly popular among garden enthusiasts in recent years. Originally designed to support railway tracks, these treated timbers have been given a new lease on life as highly adaptable and aesthetically pleasing elements for outdoor spaces. In this article, we'll explore the uses and advantages of incorporating softwood railway sleepers into your garden.
The Basics of Softwood Railway Sleepers
At East Coast Fencing, we supply 100x200mm x 2.4m softwood railway sleepers that are pressure treated for longevity and resistance to decay. These sleepers are made from renewable timber sources like pine and spruce, which are responsibly managed and certified by the FSC (Forest Stewardship Council) or PEFC (Programme for the Endorsement of Forest Certification).
Their durability and resistance to outdoor conditions make these softwood railway sleepers a perfect addition to various garden projects. The pressure treatment they receive ensures that they can withstand moisture, rot, and insect infestations, providing a reliable and long-lasting material.
Creative Uses for Softwood Railway Sleepers in Your Garden
The versatility of softwood railway sleepers allows for a multitude of uses in any garden setting. By implementing these landscape design elements, you can create functional and visually appealing features in your outdoor space. Let's take a look at some popular applications of softwood railway sleepers in the garden:
Raised Beds and Planters: Create attractive and organised planting areas by using railway sleepers to build raised garden beds. These structures not only make access to plants for maintenance and harvesting easier but also improve drainage and soil quality – perfect for a thriving garden. You can also construct custom planters to house your favourite plants, flowers, and herbs.
Steps and Pathways: Softwood railway sleepers are ideal for use as stepping stones or to create staircases on sloping terrain. Lay them out horizontally to develop unique and sturdy walkways that define your garden's flow and allow for safe, comfortable passage.
Retaining Walls: If your garden has varying levels of elevation or requires terracing, softwood railway sleepers can be used to build retaining walls that help prevent soil erosion and provide structure to your landscape. With their natural appearance, they can seamlessly blend with the environment, making your garden more visually appealing.
Garden Furniture: Why not get creative and use softwood railway sleepers to design customised garden furniture? Create a rustic seating area or a one-of-a-kind table to enhance your outdoor leisure experience.
Decorative Elements: Incorporate softwood railway sleepers as diverse accents in your garden landscape. They can act as borders for pathways, support for archways and pergolas, or even as a bold centrepiece, such as a sculpture or water feature base.
How to fix railway sleepers for a retaining wall?
When it comes to creating a sturdy and reliable retaining wall, properly fixing railway sleepers is crucial. The first step is to determine the desired height and length of the wall, and mark out the area where the sleepers will be placed. Next, use a spirit level to ensure a level base for the sleepers. Use wooden pegs and string to establish straight lines for the wall, and begin laying the sleepers in a staggered pattern. Secure them in place using long screws or nails. Be sure to take into account the pressure that the wall will be subjected to over time and use appropriate fixing methods to ensure the wall remains stable. By following these steps with precision and attention to detail, you can create a functional and durable retaining wall that will serve its purpose for years to come.
How to cut railway sleepers?
Railway sleepers are used for a range of outdoor projects and structures, including garden edges, walls, and raised beds. Cutting these heavy, durable materials may seem like a daunting task, but with the right tools and techniques, it can be accomplished safely and efficiently. Firstly, it's important to use a high-quality circular saw with a diamond-tipped blade for precision and durability. It's also recommended to wear gloves, ear protection, and eye goggles for safety while cutting. As for technique, slowly guide the saw through the sleeper, making sure to keep your hands away from the blade. Don't rush the process, take your time to ensure a clean and accurate cut. Follow these steps, and you'll be on your way to creating the perfect outdoor project using railway sleepers.
How to fix railway sleepers to the ground?
If you are looking to fix railway sleepers to the ground, it is important to choose the right method to ensure a secure and stable foundation. One option is to use concrete to fix the sleepers in place, which involves digging a hole and pouring concrete around the sleeper. Another option is to use metal brackets to attach the sleepers to the ground with screws or bolts. It is important to consider factors such as the type of soil and the intended use of the railway sleepers before deciding on the best method. Whichever method you choose, it is crucial to ensure that the sleepers are properly anchored to prevent movement and maintain the safety of the track
How to lay railway sleepers?
Laying railway sleepers may seem like a daunting task, but with the right tools and techniques, it can be a satisfying DIY project for any homeowner. First, make sure to measure the area where you plan to lay the sleepers, ensuring that you have enough materials for the job. Next, use a spade to dig a trench for the sleepers to sit in. Make sure the trench is deep enough to support the sleepers and level the ground where they will rest. Once the trench is complete, carefully place the sleepers in the trench, ensuring that they are straight and evenly spaced. Finally, secure the sleepers together using screws or bolts, and voila! Your railway sleeper project is complete. With a little patience and attention to detail, your newly laid sleepers will be both functional and stylish additions to your outdoor space.
Garden sleepers are a popular addition to outdoor spaces due to their versatility and durability. If you're considering using them in your garden, it's important to consider the size you'll need. Typically, garden sleepers come in a range of lengths, but the most common sizes are 2.4 meters and 3 meters. However, depending on your project, you may need a different length. It's important to measure your space, decide on the layout and design, and determine the length of sleepers that will work best for you. With proper planning and installation, garden sleepers can provide a lasting and attractive addition to any outdoor space.
---