1.8M x 100x100MM Wooden Fence Post - Pressure Treated Green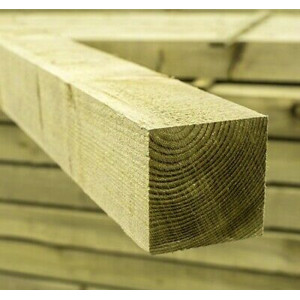 1.8M x 100x100MM Wooden Fence Post - Pressure Treated Green
Stock:

In Stock

Brand: East Coast Fencing
Model:

WFP4418GRN

Weight:

13.00kg

EAN:

5061025361823

MPN:

WFP4418GRN
1.8M x 100x100MM Wooden Fence Post - Pressure Treated Green
Introducing our 6FT 4"x4" Wooden Fence Post (1.8M x 100x100MM) – the ideal solution for anyone looking to secure their garden, enhance privacy, or simply add a touch of rustic charm to their outdoor space. As a proud supplier of high-quality Wooden Fence Posts, we ensure that our products are not only durable but also an environmentally-friendly alternative to traditional fencing materials.
Our Wooden Fence Posts are pressure treated Green, a process that offers exceptional protection against rot and fungal decay, guaranteeing an extended lifespan and reduced maintenance costs. The rich, Green colour of our fence posts is not only visually appealing, but it also blends seamlessly with any landscape, unlike concrete fence posts that can stick out like a sore thumb.
The 1.8M x 100x100MM dimensions provide a sturdy foundation for your fencing, while the Irish-sourced timber adds a touch of natural beauty to your garden. This combination of durability, attractive design, and sustainable raw material sourcing makes our Wooden Fence Posts a perfect addition to any home.
By choosing our 6FT 4"x4" Wooden Fence Post, you're not only getting a sturdy and reliable fencing solution, but you're also supporting local timber production and making an eco-conscious choice. Our Wooden Fence Posts are a true testament to the perfect balance between form and functionality, and set themselves apart from other products in the market by offering a unique blend of quality, aesthetics, and sustainability.
It's time to elevate your outdoor space with our stunning, durable, and environmentally-friendly 6FT 4"x4" Wooden Fence Post (1.8M x 100x100MM).
Specifications
Product Information
Post Type
100MM Wooden Post
Width
100MM
Depth
100MM
Length
6FT (1.8M)
Type
Softwood
Colour
Green
Treatment Type
Pressure Treated
Product Reviews