A Comprehensive Guide to Wooden Garden Gates
18 Oct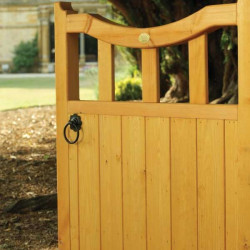 As a garden enthusiast, you're always searching for ways to elevate the appearance and functionality of your outdoor space. One essential element contributing to the charm of a garden is the entrance, and a stylish wooden gate is an ideal solution to add appeal. East Coast Fencing, a leading provider of fencing solutions, offers a wide selection of wooden garden gates perfect for enhancing your property. In this article, we'll explore various types of gates available with the company and discuss their benefits.
Tongue & Groove Gates
Tongue and groove gates are crafted using interlocking timber boards, creating a strong and visually appealing structure. The design boasts seamless transitions between planks that prevent gaps and ensure privacy while keeping out unwanted visitors like stray animals. Moreover, tongue and groove gates demonstrate remarkable longevity due to their sturdy construction and resistance to harsh weather conditions. East Coast Fencing proudly presents a variety of tongue and groove wooden gates to match any garden style.
Feather Edge Gates
Feather edge gates feature overlapping vertical timber boards, giving them a rustic and traditional appearance. This design offers enhanced durability and robustness, as the overlapping structure forms a barrier against strong winds and potential damage. These gates can be customised to suit your outdoor theme and work well with various garden styles, adding a touch of elegance and personality. East Coast Fencing provides a range of options in feather edge gates for the perfect balance of aesthetic appeal and functionality.
Picket Gates
Picket gates are the epitome of the classic garden entrance - quaint, alluring, and iconic. Comprising an evenly spaced arrangement of vertical timber boards connected by horizontal rails, picket gates create an open and welcoming feel. They are perfect for those who admire traditional and simple design aesthetics that remind us of idyllic countryside living. Picket gates by East Coast Fencing are available in multiple styles to harmoniously complement your garden's appearance and create a picturesque setting.
Make a Statement with East Coast Fencing's Wooden Garden Gates
Choosing the perfect wooden garden gate is vital to creating a seamless and captivating entrance to your treasured outdoor haven. Wooden gates, whether they are tongue and groove, feather edge, or picket, offer natural charm and can be adapted to blend with your garden's style seamlessly.
East Coast Fencing understands the significance of a well-designed and suitable garden gate and, therefore, offers a comprehensive assortment of options for homeowners. Each gate is meticulously crafted, ensuring durability, and brings that special touch to your outdoor space.
In conclusion, investing in a high-quality wooden garden gate can invigorate your garden's entrance and make it more inviting, secure, and beautiful. Exploring the various offerings by East Coast Fencing guarantees an ideal match to your unique preferences and needs for a captivating and cohesive outdoor space. So why wait? Begin your journey of weaving your dream garden today with a fetching East Coast Fencing wooden gate.
Can wooden gates be made to size?
Wooden gates provide an elegant touch to any garden or driveway that not only ensures privacy but also enhances curb appeal. Choosing the right size for your wooden gate is crucial for a harmonious blend with the surrounding landscape and utmost functionality. This article discusses the possibility of custom-sizing wooden gates and the factors to consider while choosing the perfect wooden gate for your property, featuring East Coast Fencing as a reliable supplier of bespoke wooden gates.
Bespoke Wooden Gates: Are They Possible?
Yes, wooden gates can most certainly be made to size. Also known as bespoke or made-to-measure wooden gates, these gates are crafted according to specific dimensions, shapes, and designs to provide an ideal fit for any property. Many wooden gate manufacturers and suppliers, like East Coast Fencing, offer a wide range of options to create customised gates that align with your requirements and preferences.
Factors to Consider When Choosing Custom-Sized Wooden Gates
Before deciding on a custom-sized wooden gate, it is crucial to take the following factors into account:
Dimensions: Accurate measurements are essential for custom wooden gates. Be sure to measure the width and height of the required space with precision. Additionally, consider whether the gate will be a single or double leaf design, as this will impact the dimensions and installation process.
Design, Style, and Finish: Consider the overall aesthetics and style of your property when browsing various wooden gate designs. Whether you prefer a modern, traditional, or ornamental look, choose a gate design that complements your property's architecture. Moreover, wood type and finishes, such as paint or stain, significantly impact the gate's appearance and durability.
Functionality: Evaluate the purpose of your gate; whether it is for privacy, security, or merely decorative. This will influence the height, material, and design of the gate. Additionally, consider the opening mechanism - manual or automated, as well as hinges and locks for added security.
Installation and Maintenance: Professional installation is an important aspect of ensuring perfect gate functionality. To maintain the gate's lifespan and aesthetics, regular maintenance, including painting, staining, and periodic check-ups of moving parts, should be committed to.
---