Drive In Fence Spike 75MM x 75MM x 600MM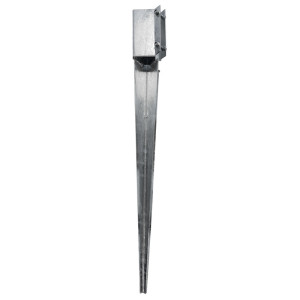 Drive In Fence Spike 75MM x 75MM x 600MM
Stock:

In Stock

Brand: Perry
Model:

IRN-47010075GV

Weight:

4.00kg

EAN:

5055184509783

MPN:

B2600751
Drive In Fence Spike 75MM x 75MM x 600MM
Introducing the Drive In Fence Spike 75MM x 75MM x 600MM – your ultimate solution to sturdy, hassle-free fencing! Crafted with meticulous precision, this fence spike boasts a robust width of 75MM x 75MM and an impressive length of 600MM.
Secure your fence like never before – our Drive In Fence Spike ensures unmatched stability and longevity, so you can be confident in your fence's resilience. This state-of-the-art product stands out in a saturated market, redefining fencing solutions to make your life easier and your property more secure!
This heavy-duty fence spike is made from top-quality, durable materials that guarantee endurance against the elements. Be it rain, wind, or snow, this spike won't let you or your fence down. Plus, the perfect dimensions make it compatible with a variety of fence types.
Don't settle for mediocre fence supports – upgrade to the Drive In Fence Spike and experience the difference for yourself. Time is of the essence! Secure your fence now, and eliminate worrying about instability forever. Order yours today and elevate your fencing game to new heights!
Specifications
Product Information
Finish
Galvanised
Length
3" x 3" x 24" (75x75x600mm)
Product Reviews