Is it Cheaper to Lay Slabs or Decking?
26 Oct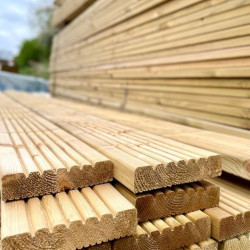 When planning to renovate or create an outdoor space, the choice between laying slabs or decking can be a difficult one. Many factors contribute to the cost and overall outcome of these types of projects, and understanding the differences between them can make the decision-making process easier. In this article, we will explore the ins and outs of laying slabs and decking, their costs, and the advantages and disadvantages of each option.
Background and Significance
Outdoor spaces such as patios, terraces, and gardens have become increasingly popular in recent years, as people seek to extend their living areas and enjoy the outdoors. The choice of surface materials for these spaces can significantly impact their durability, maintenance requirements, and overall appearance.
Paving slabs, commonly made of concrete, natural stone, or porcelain, provide a solid, hard-wearing surface that can withstand heavy foot traffic and the elements. On the other hand, decking is usually constructed from timber or composite materials and offers a softer, more natural look.
In order to make the best decision, it's crucial to consider factors including cost, aesthetic preferences, regional climate, and the purpose of your outdoor space.
Cost Comparison
The costs of laying slabs or decking can vary greatly and will generally depend on factors such as material quality, complexity of installation, and the area's size. Here are a few key points to consider when comparing costs:
Material Costs: Paving slabs made from natural stone or porcelain are usually more expensive than concrete slabs, while hardwood decking generally costs more than softwood or composite alternatives.
Installation Costs: Decking can be more labour-intensive to install compared to laying slabs, particularly if it involves constructing a substructure, such as a timber frame. This can result in higher installation costs.
Maintenance Costs: Although decking may have a lower upfront cost, it typically requires regular maintenance, such as cleaning, staining, or painting. Slabs usually only require occasional cleaning and re-pointing, depending on the material chosen.
Case Studies and Examples
Several homeowners and landscapers have weighed in on their preferred option based on the cost and results of their projects. Here are a few examples:
A family in Surrey opted for composite decking for their outdoor area due to its low maintenance requirements and the material's overall longevity. Although the initial cost was higher than that of paving slabs, the family felt that the reduced upkeep and pleasing appearance were worth the expense.
A couple in Cornwall chose to lay natural stone slabs for their patio, as they felt the durability and weather resistance were well-suited to their coastal location. They were willing to accept the higher upfront cost in exchange for a longer-lasting and visually appealing surface.
Explaining the Jargon
Decking: A set of planks, usually made of timber or composite material, that forms a raised platform or walkway for outdoor spaces. Decking offers a natural, attractive appearance but requires regular maintenance.
Paving Slabs: Thick, flat pieces of material, such as concrete, natural stone, or porcelain, joined together to create a hard, durable surface. Paving slabs come in a variety of colours, textures, and designs and require minimal maintenance.
---