Can You Lay Decking on Paving Slabs?
26 Oct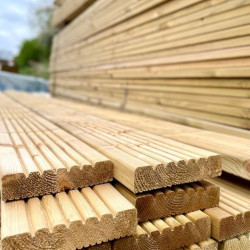 When you're looking to revitalise your outdoor space, a common question many homeowners have is whether they can lay decking on top of their existing paving slabs. This article aims to provide an informative and detailed guide to this crucial question. Let's begin with a brief overview of the background and significance of the topic.
Background and Significance
Decking is an increasingly popular choice for homeowners looking to extend their living space outdoors. Creating an attractive, functional area for barbecues, entertaining guests, or simply relaxing with family or friends on a warm summer's evening. When considering installing decking, homeowners may wonder if laying it on top of existing paving slabs is possible. This could save time, money, and the need to remove the paving slabs already in place. Is it a viable option, though? We shall explore this further.
Important Points and Considerations
Before laying decking on paving slabs, it is essential to consider some critical points:
Ground Preparation
Preparing the ground is crucial to ensure that your new decking will have a solid, stable foundation. Paving slabs have an uneven surface, and there may also be inconsistencies in the levels of the slabs. This makes creating a level surface for your decking more challenging.
Drainage and Water Flow
When laying decking on top of paving slabs, you need to consider drainage and water flow. Paving slabs laid level with adequate drainage achieved through a slightly sloping surface or gaps between the slabs for water to pass through. Decking can inhibit these existing drainage systems, causing water to pool beneath the decking and potentially causing issues such as damp, rot, and mould.
Ventilation
Ventilation beneath the decking is vital to preventing damp, rot, and infestation of pests. If your decking is laid too close to the ground, especially on top of paving slabs, airflow may be insufficient, causing problems down the line.
Relevant Case Studies and Examples
There are examples where homeowners have successfully laid decking on top of paving slabs. However, most professional landscapers and decking companies would not advise this as best practice. To prevent drainage and ventilation problems, such as in these case studies, it is generally recommended to install your decking without laying it directly on top of paving slabs. Instead, a raised subframe, which can be adjusted to level the decking, is often suggested.
Explanation of Complex or Jargon Terms
Subframe: This is the structural support for the decking, usually constructed from pressure-treated timber. The subframe serves as a foundation, ensuring the decking is level, secure, and adequately ventilated.
Summary and Conclusion
In conclusion, while it is possible to lay decking on paving slabs in specific instances, it is generally advised against by professionals. Doing so can lead to issues with drainage, ventilation, and uneven surfaces. A better solution is to install a raised subframe to support your decking and ensure it remains level, well-ventilated, and long-lasting.
By considering the information provided in this article and taking a responsible approach to your decking project, you can create a stunning and functional outdoor space that will stand the test of time and be a cherished addition to your home for years to come.
---