6FT x 6FT Horizontal Double Slatted Panel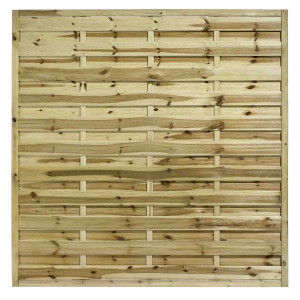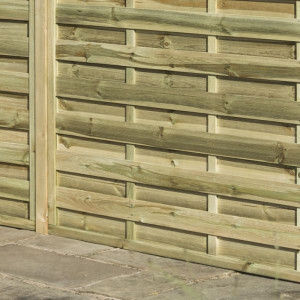 6FT x 6FT Horizontal Double Slatted Panel
Stock:

In Stock

Brand: East Coast Fencing
Model:

DEC_HDSLA180

Weight:

30.00kg

EAN:

5061025360208

MPN:

DECHDSLA180
6FT x 6FT Horizontal Double Slatted Fence Panel
Introducing our 6ft x 6ft horizontal double slatted fence panel, an exceptional addition to our decorative fence panel collection that effortlessly combines elegance and functionality. Masterfully crafted, this exquisite, double-slatted fence panel offers the perfect solution for transforming your outdoor space into a stylish haven.
What makes this particular fence panel unique is its size, boasting a 1.83m width—slightly larger than the traditional 1.8m width found in competitors' fence panels. This innovative width not only ensures an impeccable fit, but also eliminates the need for panel extension strips, enabling you to slot in our decorative range directly into your existing concrete posts with absolute ease.
The horizontal double slatted fence panel brings an air of sophistication to your garden enclosure without sacrificing durability or privacy. It perfectly combines robust fencing with aesthetic appeal, reflecting a modern design that captivates the eye. You'll find that this distinctive fence panel seamlessly integrates with your garden, raising its appeal and value.
Discover the harmony of style and utility in our exceptional decorative fence panel category, where numerous panel designs and styles await you. We take pride in offering the highest quality fence panels that cater to a wide array of tastes and requirements. Whether you're looking to add an artistic touch to your garden, or simply desiring a strong, reliable fencing option that stands out from the rest, our decorative fence panel collection promises to exceed your expectations.
Don't wait any longer to enhance your garden's allure and create your perfect, picturesque outdoor space. Explore our entire range of decorative fence panels right here, and experience first-hand the unmatched craftsmanship, variety, and value that truly sets our 6ft x 6ft horizontal double slatted fence panel apart from the rest.
Specifications
Product Information
Finish
Semi-Planed
Panel Type
Horizontal Double Slatted
Width
6FT (1828MM)
Height
1800MM
Depth
45MM
Colour
Green
Treatment Type
Pressure Treated
Product Reviews