Do Sheds Need Planning Permission?
27 Oct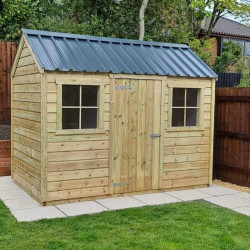 When it comes to extending or improving your home, one of the popular choices among homeowners is the addition of a garden shed. However, an important question to consider is: do sheds require planning permission? In this article, we delve into the regulations and guidelines in place, helping you to determine whether you'll need to request planning permission for your garden shed.
Understanding Planning Permission
In the UK, planning permission is required for most forms of development, including new buildings, major alterations to existing structures, or changes in the use of land or buildings. The purpose of planning permission is to ensure that the local planning authority can regulate and control such developments, with the aim of creating sustainable and balanced communities.
Permitted Development Rights for Sheds
If you're planning to build a single-storey garden shed, you may not require planning permission. This is because a garden shed usually falls under the category of 'permitted development rights'. These rights grant homeowners the ability to carry out specific types of improvement or minor extension without requiring formal approval.
However, certain criteria must be met for your shed to qualify as a permitted development:
The shed must be located behind the main building line of your house (i.e., not in the front garden).
It should not be used for residential purposes or as a separate dwelling.
The shed's overall height should not exceed 2.5 metres if it is within 2 metres of a boundary or 4 metres if it is farther away.
The total area covered by the shed and any other garden structures must not exceed 50% of the total garden area.
If your property is within a designated area, such as a conservation zone or an Area of Outstanding Natural Beauty, additional restrictions may apply.
When Do You Require Planning Permission for a Shed?
There are a few circumstances under which you may need to apply for planning permission when constructing a garden shed. These include:
If your shed does not meet the criteria for permitted development, as outlined above.
If your property is a Listed Building with specific restrictions.
If your garden shed will be used for commercial purposes or generate significant traffic.
If you're planning to construct a substantial garden building that may impact neighbouring properties or the character of the area.
Importance of Compliance with Planning Regulations
It is crucial to check local regulations and ensure compliance with any relevant planning rules and guidelines when constructing a garden shed. Failure to obtain planning permission where necessary can result in fines, legal action, or the forced removal of the unauthorised structure.
Conclusion
While garden sheds often do not require planning permission, it is essential to consider the specific criteria and guidelines relevant to your property and proposed shed. By ensuring that your garden shed adheres to these requirements, you can avoid any legal complications or disputes with your neighbours. Before embarking on your shed project, we encourage you to take the time to fully understand the planning regulations to ensure the smooth and successful completion of your garden improvement.
---