6FT x 5FT Fully Framed Premium Square Trellis Panel - Pressure Treated Green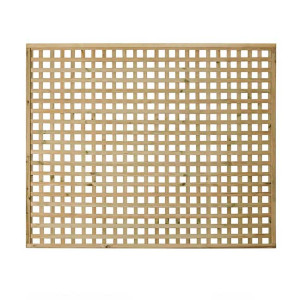 Out Of Stock
6FT x 5FT Fully Framed Premium Square Trellis Panel - Pressure Treated Green
Stock:

Out Of Stock

Brand: East Coast Fencing
Model:

DEC_PSQ15

Weight:

18.00kg

EAN:

5061025361663

MPN:

DEC_PSQ15
6FT x 5FT Fully Framed Premium Square Trellis Panel - Pressure Treated Green
Introducing the stunning 6FT x 5FT Premium Square Trellis Panel, designed to turn your outdoor space into a beautiful oasis. A Trellis Panel masterpiece that is perfect for all your climbing plants and vines, providing ample support for growth and adding a touch of elegance to your garden.
Our top-of-the-line Trellis Panel boasts pressure-treated green timber that ensures long-lasting durability while enhancing the natural beauty of your plants. The high-quality, semi-planed timber imported directly from Poland offers superior craftsmanship and unmatched elegance.
Featuring 40mm squares, this panel is ideal for supporting a wide range of climbing plants and vines, from delicate clematis to robust roses. As a true 6ft wide panel, there's ample space for your plants to weave their way through and flourish, creating a breathtaking sight for all to enjoy.
The fully-framed structure of the trellis ensures stability and longevity, so you can have confidence that your investment will stand the test of time. Plus, the versatile design of the Premium Square Trellis Panel makes it suitable for various applications, whether used as a privacy screen, decorative garden feature, or an elegant backdrop for your outdoor seating area.
Product Specifications:
Dimensions: 6FT (width) x 5FT (height)
Material: Pressure-treated green, semi-planed timber
Origin: Imported from Poland
Design: 40mm squares, fully-framed
Don't settle for ordinary when you can have extraordinary with our 6FT x 5FT Premium Square Trellis Panel. Breathe new life into your outdoor space and create a beautiful sanctuary that will be admired for years to come.
Order now and transform your garden into an enchanting paradise with the unrivalled quality and craftsmanship of our trellis panels. Trust in our commitment to excellence and make your outdoor retreat dreams come true today!
Specifications
Product Information
Width
1830MM
Height
1500MM
Type
Fully Framed Premium Square Trellis
Colour
Natural / Green
Treatment Type
Pressure Treated
Product Reviews