6FT x 3FT Fully Framed Premium Square Trellis Panel - Pressure Treated Green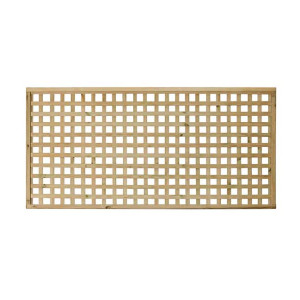 Out Of Stock
6FT x 3FT Fully Framed Premium Square Trellis Panel - Pressure Treated Green
Stock:

Out Of Stock

Brand: East Coast Fencing
Model:

DEC_PSQ09

Weight:

12.00kg

EAN:

5061025361687

MPN:

DEC_PSQ09
6FT x 3FT Fully Framed Premium Square Trellis Panel - Pressure Treated Green
Introducing the 6FT x 3FT Premium Square Trellis Panel - the perfect addition to elevate your garden aesthetics and complement your outdoor space! Our Trellis Panels serve as a stylish framework for your climbing plants, offering support as they climb and creating an impressive display. Crafted with quality in mind, each panel provides not only an appealing structure but also durability and strength.
Made from high-quality, pressure-treated green timber, this trellis panel can withstand both the test of time and the elements. The stunning green tone seamlessly blends with your garden, giving a touch of sophistication and class. Each trellis panel features 40mm squares, ensuring optimal support for your climbing plants while maintaining a visually striking pattern.
What sets our Premium Square Trellis Panel apart from the competition? Our trellis panels are imported directly from Poland to guarantee the finest quality and craftsmanship. With a true width of 6ft, you can trust that every detail has been meticulously designed and manufactured to give your garden a long-lasting and eye-catching structure. Furthermore, each trellis panel comes fully framed for added sturdiness and resilience.
Our semi-planed timber offers a smooth and polished finish, bringing an air of elegance to your outdoor living area. Whether installed as a standalone point of interest or combined with other compatible garden features, the 6FT x 3FT Premium Square Trellis Panel makes a remarkable addition to your landscape.
Key Features:
Pressure treated green timber for enhanced durability
40mm square lattice for optimum plant support
True 6ft width for a generous climbing space
Imported from Poland to ensure premium quality
Fully framed for added strength
Semi-planed timber for a sleek finish
Upgrade your garden space today and showcase your captivating plants with the 6FT x 3FT Premium Square Trellis Panel. Don't miss out on the opportunity to enhance your outdoor environment and create a stunning focal point. Place your order now, and rest assured that you're investing in a reliable, high-quality product with a timeless design.
Specifications
Product Information
Width
1830MM
Height
900MM
Type
Fully Framed Premium Square Trellis
Colour
Natural / Green
Treatment Type
Pressure Treated
Product Reviews